News
A history of the copper telephone line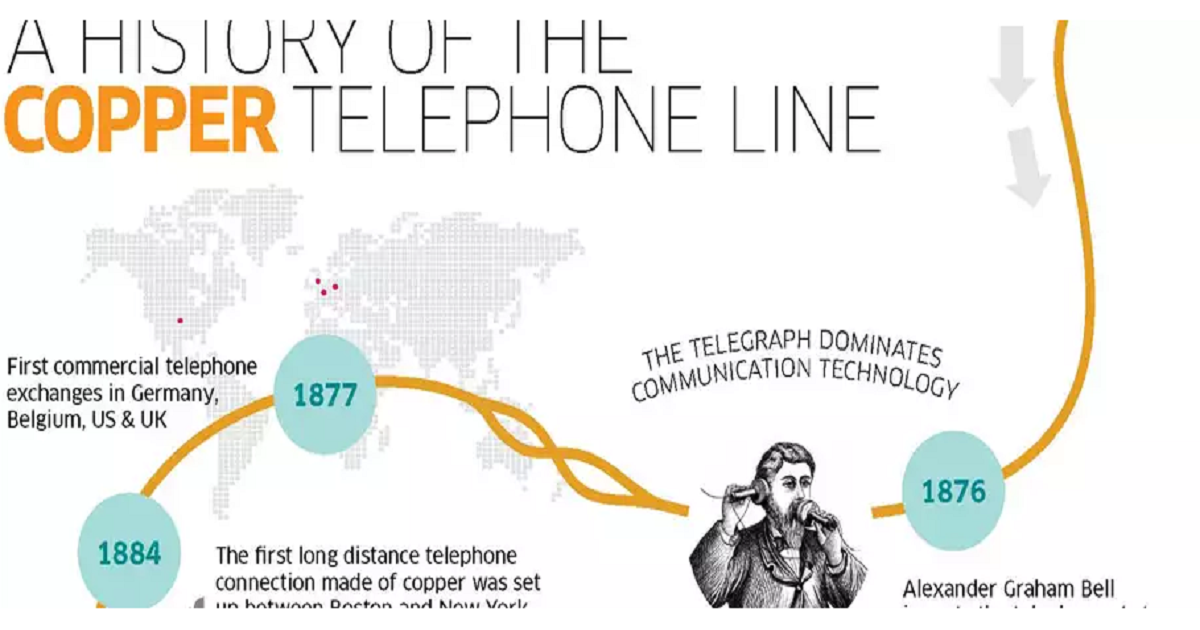 Alcatel-Lucent recently announced a new world record broadband speed of 10 Gbps. This infographic charts the history of the copper telephone line from Alexander Graham Bell's original invention to Bell Labs re-invention of copper as a way of providing true gigabit Internet services.

View the full A History of the Copper Telephone Line infographic and download the PDF.

The Telegraph Dominates Communication Technology
1876 - Alexander Graham Bell invents the telephone. Later in 1881 he patents copper twisted pairs and the modern telephone system is born.1877 - First commercial telephone exchanges in Germany, Belgium, US & UK.1884 - The first long distance telephone connection made of copper was set up between Boston and New York.

The Copper telephone line revolution begins
1899 - Loading coils are invented allowing for the use of thinner copper wire.1918 - 15 minutes - Average time to set up a connection.1940 - Creation of telephone numbers, enabling direct customer dialing.1953 - 50 bit per second (bps) - Speed of the world's first "DataPhone" (modem), developed by Bell Laboratories.1960 - The Stanford and UCLA computers communicated with each other over a 50 kilobit per second (kbps) phone line.

The Fiber Revolution Begins
1963 - Push-button telephone unveiled in the US.1972 - 2,400 bps - Speed of Digital Data Service (DDS).1977 - The Fiber Revolution Begins.1978 - 19,200 bps - Speed of second generation Dataphones.1986 - First Fiber-to-the-Home (FTTH) deployment, Hunter Creek, Florida.1989 - Tim Berners-Lee invents the Word Wide Web.

Copper reborn for gigabit services
1999 - 6 Mbps - ADSL brings broadband to the masses, ultimately connecting more than 366M households around the world.2007 - 50 Mbps - Speed of the first commercial VDSL2 deployments.2011 - 100 Mbps - Speed of the first commercial VDSL2 vectoring solution.2013 - 1 Gbps - Speed demonstrated over copper by Telekom Austria in the world's first G.fast speed trial.2014 - 10 Gbps - Bell Labs G.fast trials set speed records with the XG-FAST prototype. Reproducing a real-world fiber-to-the-distribution-point (FTTdp) deployment speeeds of 2 Gbps aggregate or 1 Gbps symmetrical are achieved over 70 meters using a single copper pair.